'Matthews' Sheds Light on English Football Star's Coaching during Apartheid in South Africa
Babe Ruth swung for the fences in the 1920s, and America crowned him the Sultan of Swat. In England, Stanley Matthews is said to have the same cultural magnitude, becoming the only active footballer to receive a Knighthood. Undoubtedly, their off-the-field activities have made both athletes larger than life. But just because Sir Stanley was slight and his exploits far harder to spot means the English legend has not earned his place in the history books. As a matter of fact, he is the subject of an upcoming sports documentary titled 'Matthews' which we'll be talking about in this article.
The story as told by filmmaker Ryan Scott Warren, begins with Matthews traveling to an exhibition tour in Johannesburg. "He was driving from the airport, and he saw little boys playing soccer with a ball made out of a plastic bags. They were doing his signature move. So when he stopped the car to get out, these little boys in Soweto knew immediately who he was," explained Supervising Producer Mitch Horn who added "he had no idea how far his fame had reached, and was really taken."
Coaching Begins for Children of Apartheid in South Africa
As a result, Matthews returned every summer for 20 years to coach the boys. "It's a story that not a lot of people know," said the Bedford resident.
His triumph culminated in 1975 prior to the Soweto riots. "He put together a team called Stan's Men to go to Brazil and train with their national team," said Horn. But his efforts went unnoticed. "Coca Cola sponsored the team and didn't publicize the trip…it was a different era," related Horn.
The low profile sportsman was also faced with vehement opposition from South Africa's apartheid government which held a view that was heavily supported by anti-Apartheid movement. Notwithstanding, Matthews was still determined as he noted, "the game is above politics and the children deserve it".
Soweto Riots End Outreach
But the excursion to Brazil proved to be the end of his outreach. "It wasn't feasible to get back into Soweto after the riots, and all communication was shut down for several years. By then he was too old," said Horn about a film that he hopes will make a sports documentary.
There was also no real discernible impact on Apartheid in South Africa. On the other hand, Matthews' love of the game let him leave no one untouched by his presence – especially the boys. "All he ever wanted to do was share football with others," expressed Horn.
Horn can attest to the impact firsthand.
The production was able to find nine of the youngsters who made the trip to Brazil. Horn expressed that this trip to South Africa to meet the youngsters was one of the most monumental experiences he has ever had.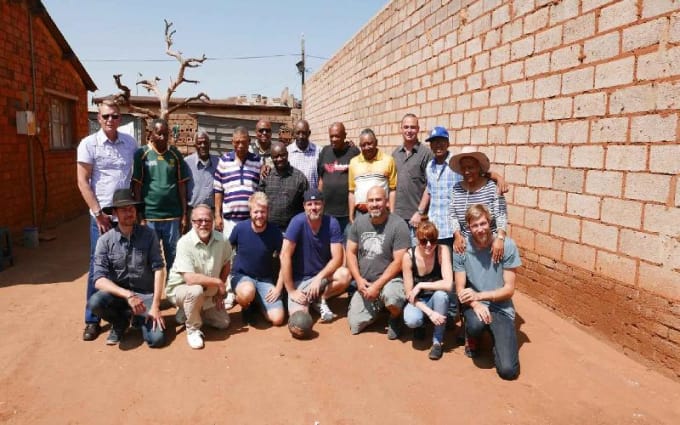 The Story Comes Home
The instinct to story-tell aside, providence apparently played a role according to Hamilton, who long hoped his mentor's story would be told. "He gave me a hug, and with tears in his eyes said, 'I was praying for 40 years that you would come," Horn conveyed.
Thankfully, the story did start to come to light in England as journalists soon started interviewing him retrospectively about his career. "He's England's guy, so they know," said Horn. "But when we brought this up to US players or coaches or random people, they have no idea," he added.
Given the current state of Sports, Horn believes it's an education that ought not to be omitted. "In sports, there was a time we came to a crossroads, and the road that Stan chose was incredibly noble…he reminds us it is still possible," concluded Horn.
Matthews is in the final stages of production. Watch the Trailer here.